Iso Kronus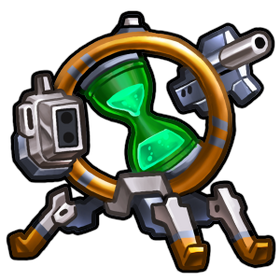 Iso Kronus is an offensive Green unit with

2 Exhaust.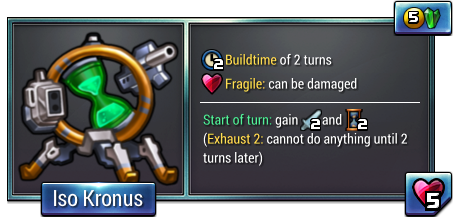 Iso Kronus's

Exhaust makes it so it fires only once every two turns. When a player chooses to synchronize all their Iso Kronus to have them fire together, the turns where they don't attack are referred to as Iso Kronus off turns.
Iso Kronus is similar to Gauss Cannon in that it provides an average of

1 damage per turn. Iso Kronus costs 1

gold less, but every odd point of damage is delayed by one turn. It is also like a Tarsier that costs 1


instead of
for getting every second

attack 1 turn early, thus not being very efficient nonetheless.
A common strategy when going for Iso Kronus is to synchronize them and buy no other attackers so you deal damage only every other turn, reducing your opponent's absorb and increasing your burst attack. This technique has drawbacks though.
Even if you are also buying other attackers that are not compatible with that strategy, synchronizing your Iso Kronuses is still more efficient than buying un-synced Iso Kronuses, since the maximum attack is higher. This strategy works especially well if the set contains other units with the same

Exhaust (such as Immolite).
Fully synchronized Iso Kronus strategies are usually only good if there is something good to buy on the off turns with your green, preferably something bursty. Examples:
Player 1 Cluster Bolt
DD
DD
CCC
2x Iso Kronus
Cluster Bolt +CCE
2x Iso Kronus
2x Cluster Bolt
Player 2 Cluster Bolt plus Auric Impulse (1)
11
CCC1
2x Iso Kronus
Cluster Bolt +E11
3x Iso Kronus
Player 1 Cluster Bolt plus Auric Impulse (1)
11
CC11
Iso Kronus +CC
Cluster Bolt +11
3x Iso Kronus
Player 2 Auric Impulse (1)
DD
C11
CC11
4x Iso Kronus