Doomed Wall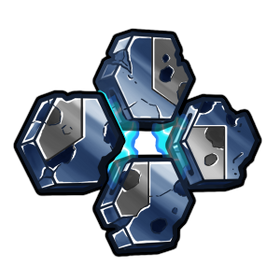 Doomed Wall is a Blue unit. It's a

Prompt

Blocker with good

Health, but has a limited

Lifespan.
Doomed Wall costs 2

gold more than a standard Wall, but has one more health and therefore provides 1 more absorb. When bought simply to be sacrificed in defense it is equivalent in cost for

Health to buying a Wall and an Engineer, with the upside that the Engineer is made prompt and the downside that it does not provide the same granularity.
Doomed Wall, like other units with both

Lifespan and

Blocker, are at their most valuable when they are used to take fatal damage on the turn they would die due to lifespan. As Doomed Wall can't be clicked and therefore is always defending unless

Frozen, players should generally attempt to use them this way. Against an opponent using freeze it may be safer to sacrifice the Doomed Wall on its second turn in order to avoid being countered. Units with constant Chill can effectively destroy them.